La Mesa Model Railroad Club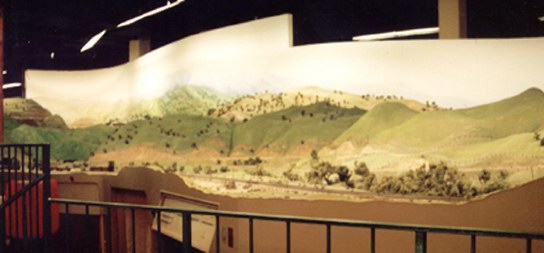 La Mesa Model Railroad Club layout represents the Bakersfield/Tehachapi Pass area of California. The joint Southern Pacific-Santa Fe lines are modeled to represent approximately the 1930-1960 time period, which covers both steam and diesel eras. The layout is Prototypical, both in detail and in operation. Every four months we run a train orders/timetable operation session, using actual Southern Pacific/Santa Fe timetables.
Our railroad layout is located inside the
San Diego Model Railroad Museum
in the Casa de Balboa Building, west of the Fleet Science Center and east of San Diego Museum of Art in Balboa Park, San Diego, California.
The
museum
is open Tuesday - Friday 11:00 am to 4:00 pm, Saturday and Sunday 11:00 am to 5:00 pm.
Tuesday evenings after 6:00 pm are work nights where building and enhancing the layout takes place. From July to November 2001, construction of the public walkway over the layout will take place. Afterwards, building of the Tehachapi Loop will begin!!
Interested modelers are invited to visit us both during the day while the layout is in operation, and Tuesday evenings, to discover secrets for building prototypical scenery, track spiking, rolling stock and DCC.
Dedicated prototype modelers are also invited to join our club to help continue the 20 year legacy of the layout.
For further information on the club and layout, keep browsing.........
and if you have a question that isn't answered here on this site, please email us at
lamesaclub@att.net
..........and someone will answer within a few days!!!!!